Introducing SmartLock™ - Orrstown's home equity line of credit to get the things you need done. Whether it's home improvements, consolidating debt, or covering unexpected expenses, a home equity line of credit is a great way to access the equity in your home and use it however you want, all while enjoying a lower interest rate and the ability to borrow more.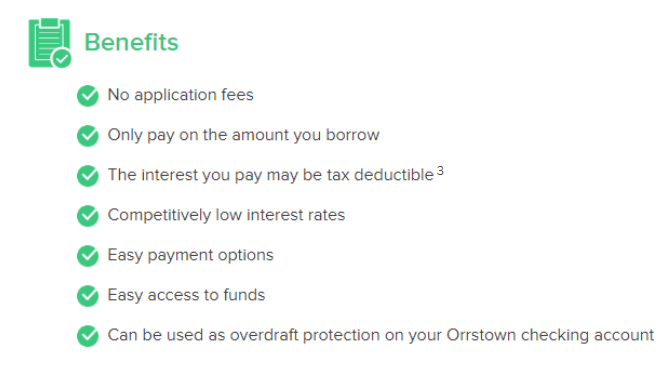 1 Introductory 4.35% Annual Percentage Rate (APR) is effective for initial 6 months of the loan with automatic loan payments from an Orrstown Bank checking account. After the introductory period, the rate converts to a variable ("permanent rate"). The permanent rate will vary with Prime rate as published in the Wall Street Journal (the index) plus or minus a margin. The APR will never exceed 18% or go below 3.25%. As of 07/27/2023, the variable rate is 8.25% for properties in Pennsylvania and West Virginia; the variable rate is 8.50% for properties in Maryland. If automatic loan payments are canceled, the introductory rate ends. Refinanced SmartLock lines of credit do not qualify for the introductory rate. Borrower(s) must also meet certain credit score and loan-to-value (LTV) requirements to receive introductory rate.
2 Annual Percentage Rate (APR) advertised is based on a property located in Pennsylvania or West Virginia, a minimum credit score of 740, maximum loan-to-value (LTV) ratio of 80%, and a minimum line of credit amount of $100,000. Lines of credit amounts over $5,000 are available with different margins. APR advertised also includes a discount of 0.75% for setting up (at or prior to loan closing) and maintaining automatic loan payment from an eligible Orrstown Bank deposit account. A higher APR may be applied for loans with lower credit scores, higher LTV ratios, and discontinuance of auto pay.
All SmartLock™ accounts have a 10-year interest-only draw period, followed by a 20-year repayment period. Your monthly payments may increase, possibly substantially, once your credit line transitions into the repayment period. Fixed Rate / Fixed Term Advances under a SmartLock™ account are subject to different pricing. There is a $50 fee for each rate lock and a $75 fee for each unlock. Lock must be in place for a minimum of 12 months before it can be unlocked. This product requires proof of active homeowner's insurance policy. For properties in Pennsylvania, a recapture fee of $250 applies if you close the account within 24 months of account opening. For properties in Maryland, certain taxes associated with the line will be paid by us at closing; you will be responsible for reimbursement of those taxes if you close your account within the first 24 months of account opening. Other standard underwriting criteria apply. Terms and conditions of this offer are subject to change without notice. We reserve the right to withdraw this offer at any time. Contact us for properties outside this area.
3 Consult with a tax advisor