Online Banking
Your Improved Online Banking Experience
We hope you are as excited about our new Online Banking site as we are!  Here is some important information you need to know as you try out the new features and services:
If you are a current Online Banking user, the first time you log into the new system: 
Go to orrstown.com and click/tap the Login button

Enter the User ID and password you currently use

Complete the two-factor authentication process for security purposes. The verification authenticates your device and can be a one-time verification for that device if you choose. If you cannot utilize text verification, a one-time automated phone call verification is available as an alternative.
What changed?
The URL will be different than the current Online Banking site, so if you have the URL saved in your web browser, please update this accordingly

The look of our new Online Banking site and our Mobile Banking app are now similar so that you have a consistent experience across the board

You can now message with an Orrstown representative using our Conversations feature

Alerts that were previously set up under your profile will need to be set up on the new system to confirm that you wish to continue to receive them. Remember to set up your alerts on the new system located within the settings area

Easily switch users during your Online Banking experience

Finding transactions from the past will be easier with our new search feature

Add transaction details to any of your activities for your record-keeping purposes

Organize your dashboard with the information that is most important to you
What is the same?
All accounts you currently have online access for will appear in the new Online Banking site along with your transaction history

Any payees and payment accounts you currently have established in the Bill Payment area will continue to be available

Automatic transfers have been automatically moved to the upgraded Online Banking system

Accounts linked to your primary account will continue to remain the same
If you use third-party programs such as Turbo Tax, QuickBooks, Mint, etc., you may need to update your Orrstown Bank Online Banking credentials and URL within the program to ensure connection to our website. 
We encourage you to visit the FAQ section of our website. You can find information regarding the two-factor authentication process, clearing saved passwords, and clearing "Cookies" from your browser. 
We would be more than happy to help you with any questions you may have about the transition to our new Online Banking site. Please visit your local branch, message with an Orrstown representative, or call our Client Service Center at 888-677-7869 for more details. Thank you for banking with Orrstown Bank!
---
By enrolling in Orrstown Bank's Online Banking, you can take care of most banking needs without leaving your home, office, or favorite coffee shop - bank anywhere you have a computer and an internet connection.* Check out these online banking benefits: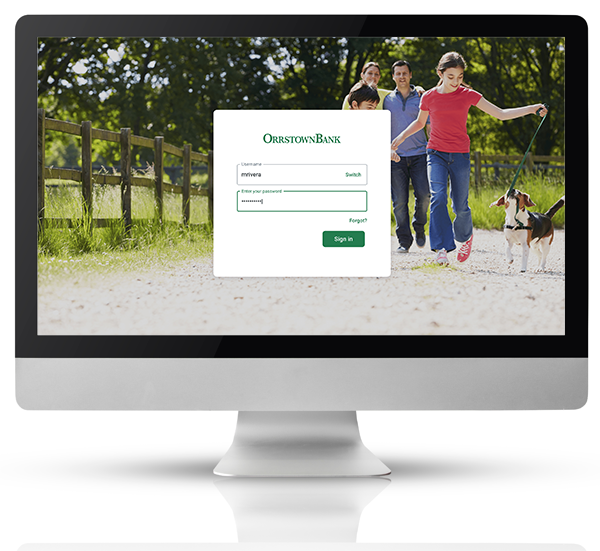 Alerts
Online Banking alerts provide a quick and easy way for you to stay on top of your account activity. Sign up to receive any of these four types of alerts:
Events: Keeps you aware of account activity triggered by certain events
Balance: Triggered by certain account balances going above or below a target amount
Item: Triggered by checks clearing
Personal: Date driven with customizable text
---
Balance/Transaction History
Easy access to balances and transaction histories on all accounts
Search and view deposited checks
Export history to spreadsheet software, including the following formats:

Quicken® in the QFX format (Intuit, Inc)
QuickBooks® in the QBO format (Intuit, Inc)
CSV (comma delimited file) for spreadsheet software such as Microsoft Excel®
Word Processing (TXT)
Intuit QuickBooks
Personal Finance (QIF)
Have questions? Our FAQs can help.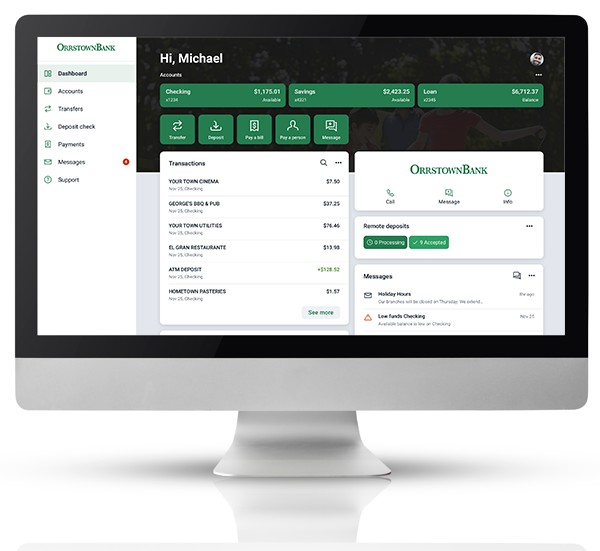 ---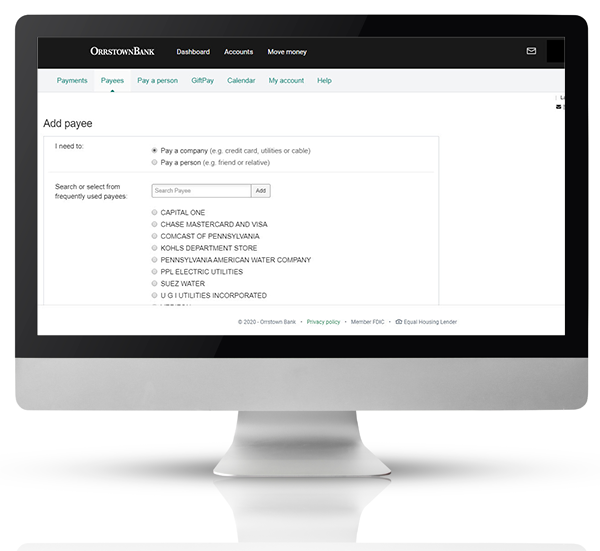 Bill Pay
Say goodbye to checks, postage, and trips to the mailbox. Pay almost any bill and save time, money and trees. Just add your payees, then schedule one-time or recurring payments. It only takes minutes to start paying your bills online, and once you add a payee, it only takes seconds. You can even pay bills using our mobile banking app . Payees are restricted to US entities only.*
---
Customized Dashboard
Your Online Banking home page can be customized to display the options you choose.
Quickly view balances, account alerts, scheduled transfers, scheduled bill payments, and more.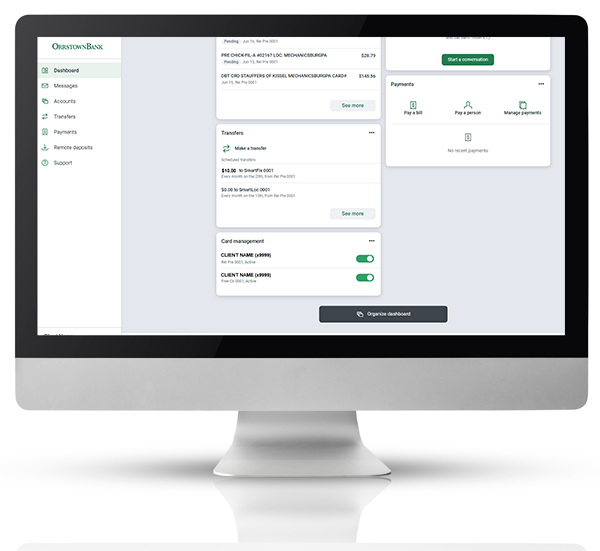 ---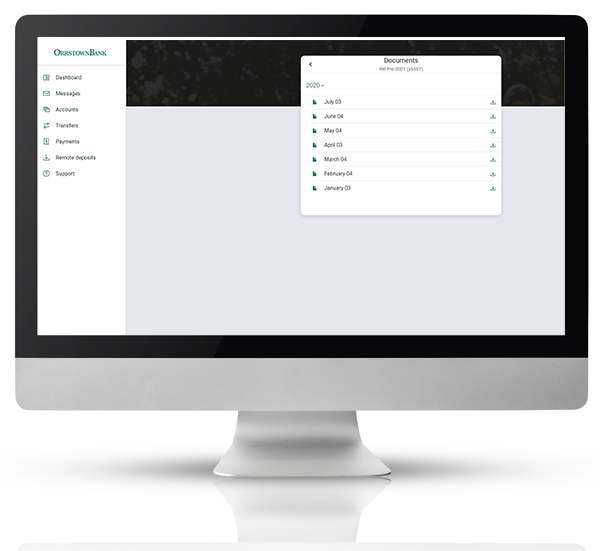 E-Statements
Receive email alerts when statements are ready, then view them online
Access up to 18 months of statements
Stay organized, simplify your life and help the environment
Enrolling in E-Statements:
Click on the Accounts menu from the left side of your Online Banking dashboard
Click on one of your accounts from the Accounts display
Click on the green box labeled Documents
Follow the prompts to update your email address or create a security phrase if prompted
Click on Sign Up/Changes
All of your accounts will then display for you to enroll
Once all selections have been made, click Save Settings
Read over the notice that displays and click I Agree if you wish to proceed
You are now enrolled for E-Statements and will see future available documents under EStatements/Notices
---
Manage Your Cards
Remember that time you left your debit card at a restaurant and weren't able to pick it up for a week? What about when you think you've lost your card but aren't really sure?
Orrstown Bank's unique online card management program is like a remote control for your debit card. From your computer or mobile device, you can:
Report and order replacements for lost or stolen cards
"Turn off" your card at any time to deny any purchases or withdrawals until you turn the card back "on"
Orrstown Bank gives you more control and more security for your debit cards - On The Spot
Have questions? Our FAQs  can help.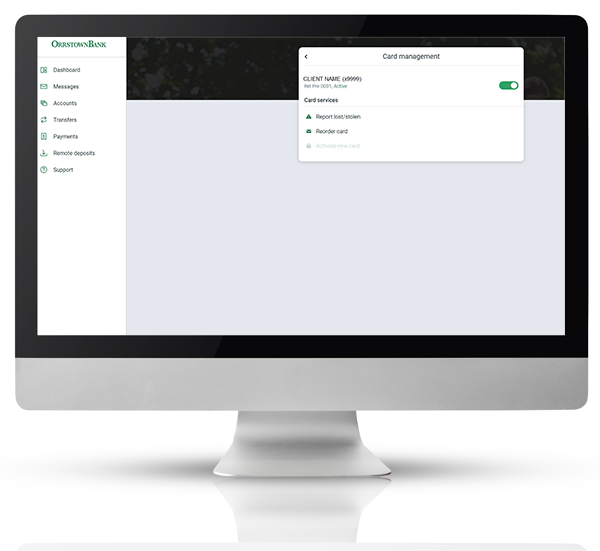 ---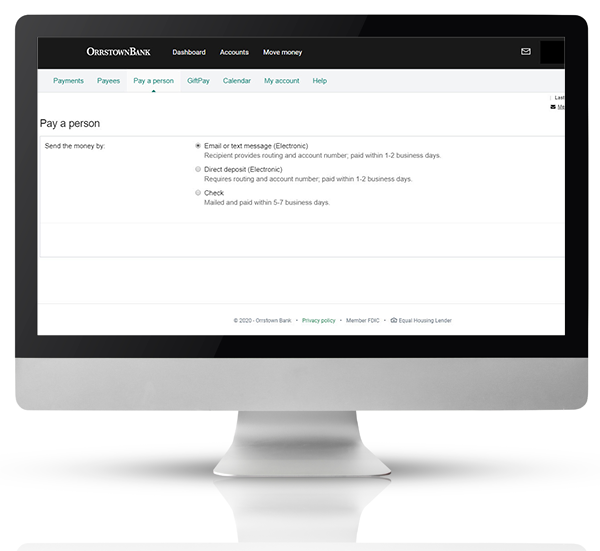 P2P- Person-to-Person Payments
Send Money directly to friends, family, or anyone at all, On The Spot . Orrstown Bank's P2P services lets you make secure online payments from your checking account directly into nearly any account at a U.S. financial institution - and all you need is the recipient's name and email address. Payments processed are deducted from your account in two to three business days.
Individual P2P transactions are limited to $250.00.*
Have questions? Our FAQs can help.
Orrstown does not charge to use online banking or mobile banking; however, text messaging and data rates may apply. Contact your wireless provider for details.
* Transaction limits apply to certain services; certain features require enrollment and all services require that your account be in good standing. Orrstown Bank reserves the right to revoke access to these services. See the Online Banking agreement inside of Online Banking.