Amenity Wellness's Self-Care Haven in Shippensburg, PA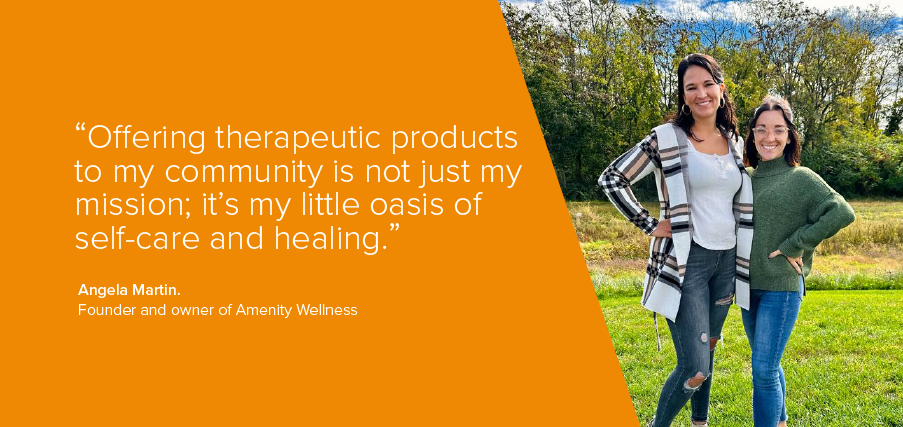 The month of October is National Women's Small Business month, and Orrstown Bank wants to spotlight the incredible women business owners who are positively impacting our communities and inspiring the next generation of entrepreneurs. Amenity Wellness LLC is a women-owned business in Shippensburg, PA that handcrafts therapeutic herbal wraps. 
Founder and owner of Amenity Wellness, Angela Martin, wants everyone who steps through her shop's front doors to be able to "forget all their problems" and prioritize self care. She wants to provide a little oasis of self care and healing products and services, something Shippensburg has been lacking until now.
Martin experienced a debilitating back injury that left her looking for remedies that didn't include prescription drugs. She found that the one thing that really helped with her pain was her homemade lavender wrap. The wrap is meant to be placed around your neck or on your back and can be used hot or cold to choose the type of relief you need from an injury or ailment. The wraps are filled with only flax seed and herbs to provide an all-natural aromatherapy experience to your treatment. 
Once she found relief from using her homemade wraps, she thought why not share the benefits she is receiving from the wraps with other people? She started sewing these wraps at home and selling them on Facebook and Etsy. After establishing the business online, she had a dream of opening a brick and mortar store to promote self-care and provide her therapeutic products to people in her own community. 
As a female entrepreneur, the road to success hasn't always been easy for Martin. She said her biggest hurdle to establishing the business was not having enough belief in herself. She faced a lot of self-doubt, but she believed in her mission and believed that her products could create a positive impact on people. So she searched out people who could help her in the areas she felt less confident about. While she is a person with all the creativity and skills to make the products and make the connections with customers, she struggled with figuring out how to run a business. This is when she brought on business partner Amber Myers to help with the day-to-day logistics and bookkeeping.
Together the two of them make the perfect team, where both of them follow their intuition and want to make a genuine impact on the people they work with the customers they service.
When asked what piece of advice they would offer up to female entrepreneurs just starting out, they both said in unison, "Follow your heart."
They both love the way they can positively impact the people who visit their shop or buy from them online. Faithfully dedicated to the Shippensburg community, they choose to partner with lots of other talented community members. Their shop features products from other local artisans, including candles, clothes, mugs, cosmetic products and so much more.
This is also how they knew that Orrstown Bank was the right financial partner for them. She already knew some of Orrstown's bankers, just as her neighbors and fellow community members, so it was only natural to then open a business checking account with Orrstown. She likes working with her local Orrstown branch, which is only a walking distance from her storefront. Martin feels she can go to her local bankers and experience individualized service from a bank that is so dedicated to supporting local businesses. 
Martin acknowledges that it takes a lot of courage to share your ideas and your products with people. It's hard to put yourself out there and go for something you believe in. But at the end of the day, Martin is a person just wanting to care for other people and create a positive impact.
Small businesses like Martin's are integral to our communities, and Orrstown Bank is proud to work with and support businesses like Amenity Wellness.
Visit their shop at:
25 W King St. Shippensburg, PA 17257
Or shop online at their Etsy Store or social pages: