Finding Common Ground with Elementary Coffee Co. in Harrisburg, PA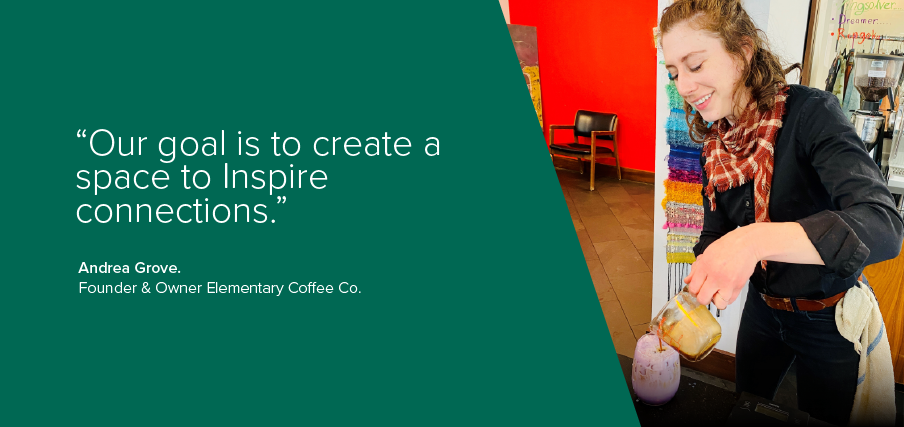 The month of October is National Women's Small Business Month, and Orrstown Bank wants to spotlight the inspiring women who are creating a positive impact in our communities.
Andrea Grove, the founder and owner of Elementary Coffee Co., started her small business with the goal of creating a space to inspire connection. She describes her thriving shop as a place to encourage people from all backgrounds to find common ground and enjoy a cup of coffee while they're at it. 
Started in the heart of Harrisburg's historic Broad Street Market, Elementary Coffee Co. has become a community gathering place where people go to break bread with their neighbors. Though their Broad Street Market stand is temporarily closed due to the devastating fire that took place recently, the Coffee Co. has a second location on North Street, Harrisburg where they continue to pursue their vision to bring people together and serve sustainably sourced, artisan coffee.
Grove has paved the way for other people to see how impactful and necessary it is for a small business like hers to exist.
"Small business is what this nation is built on, and it's important to always have them." she said.
Grove advocates for the necessity of small business and developing partnerships with other entrepreneurs and using locally sourced products. Their most recent local collaboration is with another women-owned small business, the Yum Yum Pancake Bar. They are teaming up for Hispanic Heritage Month to create a horchata latte. The proceeds for this drink go toward a fund that supports underprivileged immigrants and victims of domestic violence. 
Her shop also participates in initiatives to support the local community including the creation of their own fundraiser, the Common Grounds Mutual Aid Fund. The funds are used to benefit community programs, provide support to other local businesses, and more.
Grove has a deep-rooted dedication to community, ever since she was a child. She grew up on a dairy farm in Shippensburg, and worked alongside her parents there for years. Grove said that it was normal for kids to begin working on the farm at a young age, and it was at this time that her first checking account was opened at Orrstown Bank. She's now been a client of Orrstown Bank since she was a kid, since Orrstown's community commitment matched her and her parent's values. 
Now as a business owner in Harrisburg, Grove said it was natural to continue her relationship with Orrstown. Through opening her first business account and applying for a business loan, Orrstown supported her through every step of the process. She said that she had no doubt in her mind that she wanted to stay with a local community bank, who matched her values and cared about her on an individual level.
Now as an entrepreneur that has experienced a lot of success, as well as ups and downs along the way, Grove reflects on her journey. She is most proud of the way that the community has grown and flourished and supported each other and that's she got to be a part of that. 
She's worked really hard to establish rapport and respect, despite the adversity she's faced as a young, female entrepreneur. She said there were times where she was not always respected and that people may assume her male employee was the owner instead of her, or she and her employees may not be treated well by patrons. Instead of letting this negatively impact her business, Grove strives to empower other women as well as people from all walks of life. Elementary employs a diverse group of individuals, and she believes that makes the business stronger. 
Grove has certainly helped pave the way for future entrepreneurs and small businesses. She is proud to continue to be a spokesperson for equality and connection, and serve great coffee too. 
Visit Elementary Coffee Co. at:
256 North St. Harrisburg, PA 1710 
Or checkout their social media: