COUNT ON US.
BECAUSE YOUR COMMUNITY COUNTS ON YOU.
Paycheck Protection Program
On December 27, 2020, President Trump signed the new stimulus bill that includes additional Paycheck Protection Program (PPP) funding and important PPP programmatic changes.  Additional PPP funding is now available for small businesses who previously received a PPP loan and would be eligible for a "second draw," as well as those small businesses that did not receive an initial PPP loan. Sole proprietors, independent contractors and certain self-employed individuals are also eligible for a PPP loan.
IMPORTANT NEWS: President Biden signed the PPP Extension Act of 2021 on March 30, 2021. Eligible applicants for both the First and Second Draw PPP Loans now have until May 31, 2021, OR until the funds are exhausted to submit their applications. SBA guidance suggests, but is not limited to:
Second Draw Loans for Existing PPP Loan Recipients
The legislation creates a PPP loan called, "PPP Second Draw," loan for small businesses that meet certain eligibility requirements, that reportedly include the following criteria:

Employ not more than 300 employees
Have used or will use the full amount of first PPP loan
Demonstrate at least 25 percent reduction in gross receipts in one quarter in 2020 in comparison to that same quarter in 2019 (Example: 2nd Quarter 2019 vs. 2nd Quarter 2020 gross receipts)
PPP Second Draw Loans cannot be greater than $2 million
New PPP Borrowers
If you are a small business that has not applied for PPP funds, the legislation allows these small businesses to apply.
The final legislation contains many other important provisions relevant to PPP loans, including clarification on deductibility, as well as further simplified loan forgiveness for loans up to $150,000. We are in the process of reviewing the legislation and SBA guidance, and will continue to review guidance as it is released and will communicate accordingly.
Local PPP Loan Support in Central Pennsylvania & Maryland
Orrstown stands ready to do all we can to help you and other small businesses in our communities during this challenging time.  
For existing clients, reach out to your designated Orrstown Bank Relationship Manager. 
For new clients with interest in a PPP loan, fill out our online form.
Information is subject to change. Submitting information into the portal does not constitute submitting an application or ensure a place in line, but simply indicates your interest in the program.
---
"The PPP process can be very overwhelming.  Thankfully, I worked with Orrstown Bank to secure my PPP.  The team at Orrstown worked tirelessly to make the process easy for me, and most importantly, with funds being allocated on a first come, first serve basis, Orrstown got me approved in record time.  Orrstown immediately worked with the SBA, got my loan approved, and I had money in my account within a matter of days! I learned one valuable lesson during the PPP process:  you need the right bank to partner with – and Orrstown is the right partner for me.  It's a competitive process to get your application approved quickly, and I have confidence in Orrstown as they have a proven track record of delivering for small businesses like mine.  I am definitely working with them to secure my 'second draw' of PPP funds." – Chris (Camp Hill, PA)
---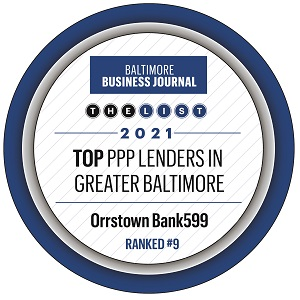 Additional Resources
---
Small Business Administration Coronavirus (COVID-19): Small Business Guidance & Loan Resources
---
In response to the Coronavirus (COVID-19) pandemic, small business owners, including agricultural businesses, and nonprofit organizations in all U.S. states, Washington D.C., and territories can apply for an Economic Injury Disaster Loan. The EIDL program is designed to provide economic relief to businesses that are currently experiencing a temporary loss of revenue.
These loans are administered through the SBA. You can learn more and apply today by visiting the SBA's EIDL website.