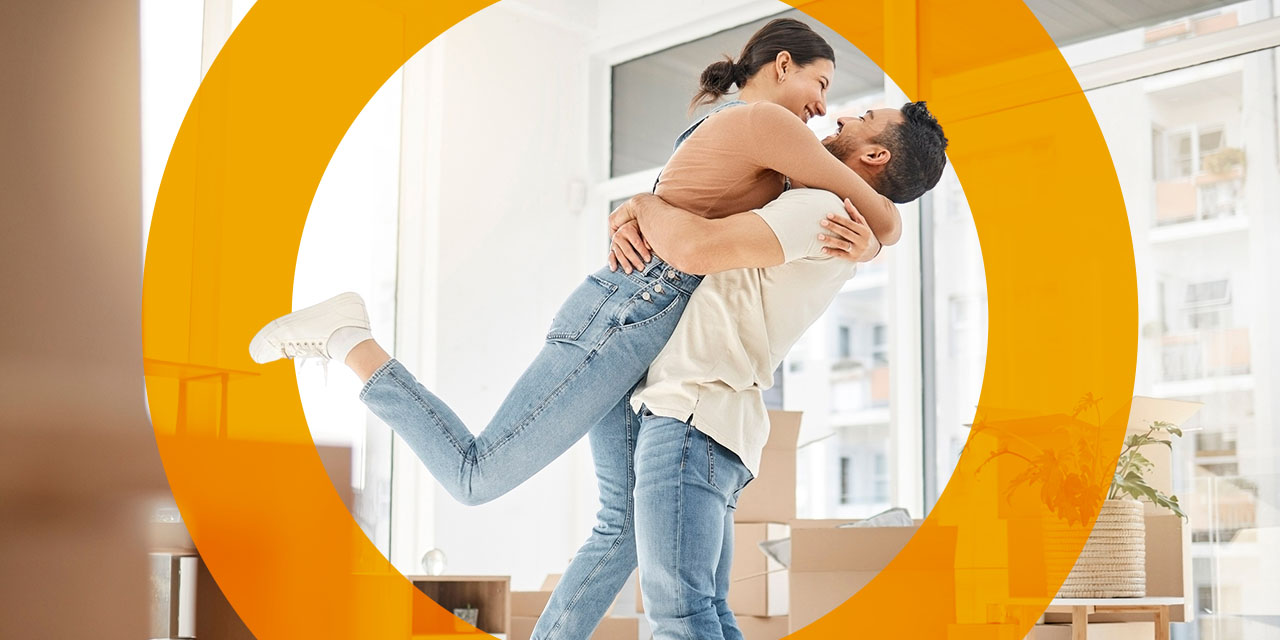 How to Buy a House in Maryland
How To Buy A House In Maryland
Maryland is one of the most beautiful states in the U.S. Dubbed "America in Miniature," this state is the birthplace of countless historical events, such as The National Anthem and several critical Civil War battles. Today, Maryland continues to be a popular place for first-time home buyers, particularly with the recent mortgage program offering additional down payment and closing cost assistance options.
However, buying a new home can be intimidating, even if you're not a first-time homebuyer. This article walks you through the steps to buying a house in Maryland to help you navigate the process as smoothly as possible.
1. Save up for a Down Payment
A down payment is the first step to what you need to buy a house in Maryland. Before you even start looking at homes, you need to know how much you can afford. Between your down payment, insurance, monthly mortgage and general expenses of owning the house, you'll need to save up a good portion of your income before beginning the buying process. The down payment for your new home will depend on your credit score and general financial standing with your bank.
The more you pay upfront, the more likely your mortgage interest rate will be lower. Once you determine your budget for your down payment, your mortgage lender will pay the rest. Mortgage lenders in Maryland generally ask home buyers to contribute 20% of the purchase price as a down payment. However, if you qualify for Veterans Affairs (VA) loan or a Federal Housing Administration (FHA) loan, your down payment may be as low as 3.5% or even 0%.
2. Get Pre-Approved
Next, you'll need to get approved for a mortgage loan, which will determine how much the bank will loan you for your new Maryland home. Having a mortgage pre-approval letter shows real estate agents and sellers that you are a sincere buyer who is financially qualified to make an offer on a new home. Many sellers in Maryland will require you to be pre-approved before you can even see the house.
To get a pre-approval, you'll need to find a mortgage lender, fill out a mortgage loan application and send in your financial information, such as bank statements, tax returns and salary details. Compare interest rates and pre-approval loan amounts from several lenders to make sure you find the one that provides the best terms to fit your needs.
Once you're pre-approved, keep your credit and financial situation in good health, or you may jeopardize the closing process on your new house. Be sure to make all credit card payments on time and avoid closing or opening credit accounts.
3. Choose Your Ideal Maryland Location and Neighborhood
Prices vary throughout the state, so you can find a location aligned with your budget. For instance, if you're looking to buy a house on the water or in a popular city center, you might pay much more for your home than if you were to search in rural areas. When researching houses in Maryland, look at past home value trends to get a better idea of what could impact your potential home's value within the next few years.
Be sure to search for neighborhoods where the home prices are in your range, values are rising and the local amenities support your lifestyle. If you're buying a home in Maryland for a new family, you might want to be located near schools and parks. If you're relocating for work, it might be more important to be close to public transportation.
4. Find a Real Estate Agent
Finding a real estate agent is the next step in the home-buying process in Maryland. This expert in the housing market will help you with nearly every aspect of buying a new home in Maryland, including showing you properties, answering your questions, negotiating contracts and navigating the closing process. Your real estate agent can also recommend service providers in Maryland to help you with your new home, such as inspectors, title companies and contractors for remodeling.
Because your real estate agent is so essential, it's important to do your research in choosing the right one. Here are some factors to consider when selecting a real estate agent:
Overall reviews and ratings
Individual reviews and complaints
Years of experience
Experience in closing on homes in your price range
Number of transactions in the last year
5. Start House Hunting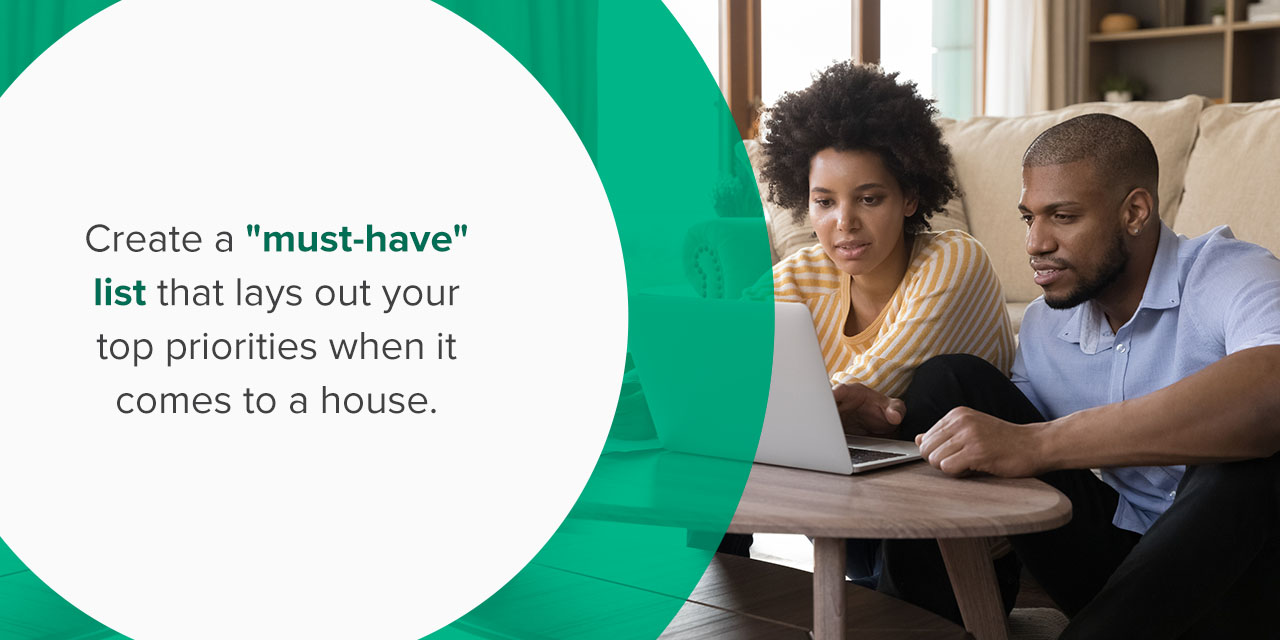 Once you've secured your pre-approval letter and your real estate agent, you can finally begin house hunting! Viewing homes in person can help you narrow down what you really want in a home, such as proximity to amenities, number of bedrooms, backyard size and many other elements you desire for you and your family.
To help navigate this process, create a "must-have" list that lays out your top priorities when it comes to a house. For example, having a newly renovated kitchen, heated pool or dedicated office space may be non-negotiable items on your list. Determining this ahead of time can make it easier for your real estate agent to find homes that suit your requirements. Though interest rates are not as low as they have been in the past, the housing inventory has increased in Maryland, which means new listings and opportunities for buyers.
6. Make an Offer
When you find a house that meets most or all your needs, you're ready to make an offer. Your real estate agent will help you develop a compelling offer to give you the best shot at getting the home, especially if several interested buyers also make competitive offers.
In June 2022, houses in Maryland were available on the market for only an average of six days, the same as in 2021, which means you may have to put in an offer above the asking price to get the home of your dreams. However, every housing market goes through seasonal changes, and the city you choose to live in will also influence the price and how fast homes sell.
7. Get an Inspection
If the seller accepts your offer, the next step is to hire a home inspector. Home inspection laws vary in Maryland depending on whether buyers decide to waive the inspection, which most real estate agents do not recommend. However, most lenders generally require some type of home inspection by a licensed inspector before closing to ensure the house is in good condition with no hidden issues that the seller did not disclose. If the inspector finds major issues, your agent can negotiate with the seller to have them drop the asking price or fix the problems before you close.
General home inspections generally include the following parts of the property:
Foundation
Roof
Plumbing
Electrical system
HVAC system
Depending on your needs, you can also opt for more specific testing on your home, such as checking for termite infestations, septic tank condition and radon levels.
8. Close on Your New Maryland Home
The final step of the home-buying process in Maryland is to seal the deal on your new house. Your real estate agent will guide you through the paperwork and ensure you have all the necessary documents before closing. Before you close on your home, your agent will take you on a walkthrough of the property to ensure everything is in the expected condition and there are no last-minute outstanding issues. The closing process will take anywhere from 30 to 45 days between meeting with the title company to finalize the paperwork and settling on closing costs. Some of the documents you'll need include:
The deed to the house
Your loan application
The mortgage promissory note
The disclosure statements
Once you're ready to pay closing costs, the fees will be distributed into these categories:
Lender fees
Prepaid costs
Escrow funds
Title insurance and search charges
Closing fees
Origination fees
Other closing costs
Average Maryland closing costs are about 2%-5% of the purchase price of the home. In 2020, the average closing costs for homebuyers in Maryland came to $3,476.
Get Pre-Approved With Orrstown Bank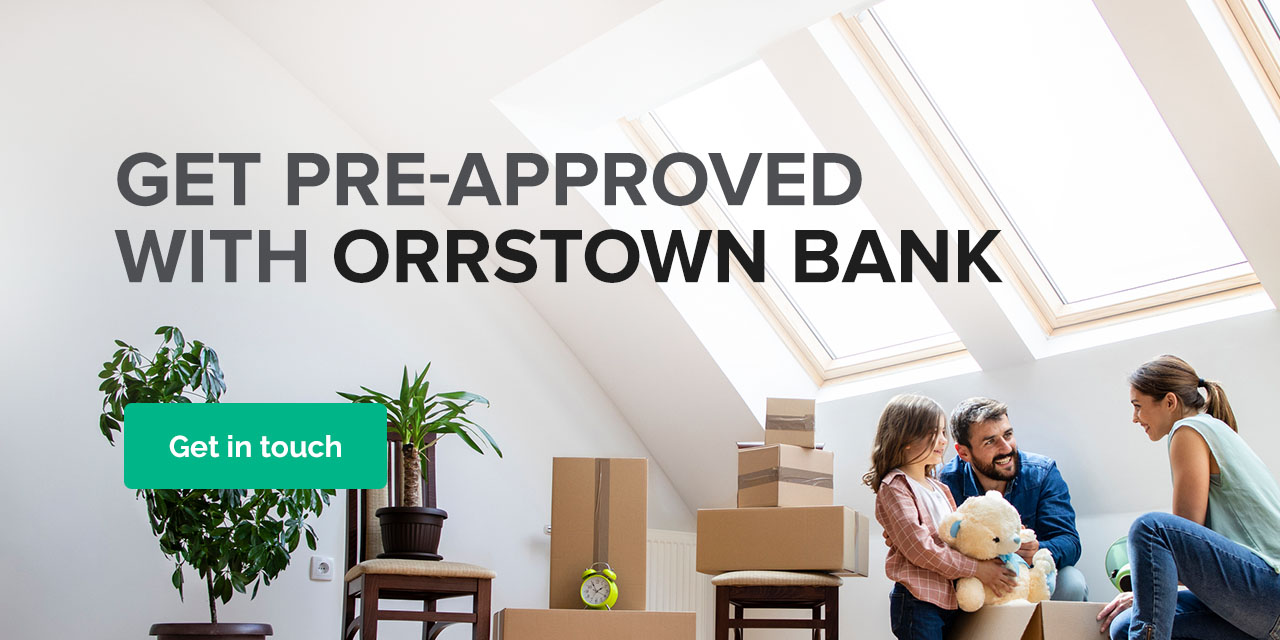 Once you've completed the eight steps above, congratulations! You're ready to move into your new home in Maryland and enjoy everything the beautiful state offers. Though buying a house can sometimes be stressful, relying on experienced agents and financial institutions can make the process much more seamless.
Whether you're a first-time home buyer or looking to start a new chapter for your family in a new place, getting pre-approved is one of the most critical first steps to finding and moving into your new home. At Orrstown Bank, we can help you with all your mortgage and financial needs as you prepare to search for your new home. As a trusted mortgage lender serving the Maryland and Pennsylvania areas, we aim to make your home-buying process as seamless as possible. Get pre-qualified today to finance the home of your dreams.